Brett the Brick
From NHRL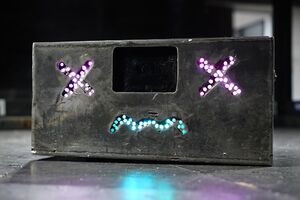 Brett the Brick is a 60lb house robot at NHRL. He is made of steel and driven by 2 powered skateboard trucks. He uses 4 VESC Motor controllers. Brett also houses an HD Camera where he serves as an in-ring camera person. Brett is powered by a 20,000 MaH Lipo at 6s.
Robot Facts
Brett has appeared in different forms throughout NHRL history. Original versions of Brett simply used a a cinder block. It turns out 3lb bots can destroy a cinder block. For 2020 it was decided to upgrade Brett to a steel brick that would be easier to service and have more space for batteries. Brett can run for 16+ hours on his batteries, while transmitting video. Brett also has controllable LEDs that allow the colors of his eyes and face to change.
| | |
| --- | --- |
| Driver | usually Sasloe |
| Weight Class | One of a kind |
| Body Material | Steel |
| Weapon | Mass, lots of it |
| Weapon Drive | 4x 180kv Skateboard Wheels |
| Drive | 4x 180kv Skateboard Wheels |
| Power | 6S 20,000 Mah LiPo |
Brett's power switch legend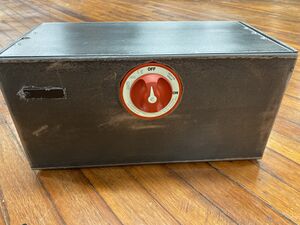 Brett is equipped with a large red power switch originally designed as a marine battery disconnect. Rumor has it that if any robot is able to shut down Brett during a match they would win the NHRL tournament for the weight class they have entered. While winning the weight class is possible, it is a certainty that any robot that can switch off Brett by switching his power switch will win $1000.00 and the match they are fighting in.
Brett was successfully deactivated for the first time during the march 15th 2021 match of NHRL. This occurred when a robot was hit into Brett. Considering the circumstances the driver opted to take the $1000 but forfeit their win in the name of sportsmanship.
Tournament Results
2020
| | |
| --- | --- |
| NHRL January | Present |
| NHRL July 1 | Present |
| NHRL July 2 | Present |
| NHRL September | Present |
| NHRL November | Present |