Event staff
From NHRL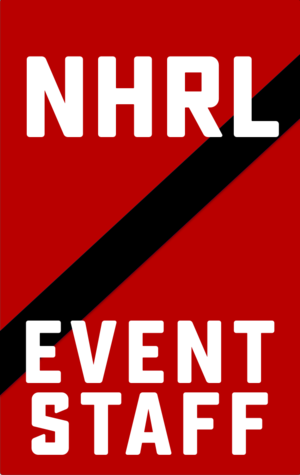 NHRL Event staff all wear the red badges and are responsible for running a smooth event and broadcast. They work to make sure the next bots are ready, the announcers are prepped, and the video keeps looking good. Event staff is also happy to help you with any robot technical issues. Some staff positions are paid but the majority are volunteer. If you are looking to help out you can sign up using the link on the event page.
Roles
Production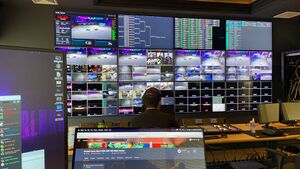 This team is responsible for the stream and AV Content at the event. They generally are not involved with any of the bot builders.
Producer

The producer is responsible for starting and stopping the stream and managing the general flow of the entire event. The producer has the final call for anything related to the video stream.

Stream Director

The director is responsible for choosing the video and audio feeds to take live during the stream

Audio Director

The Audio Director is responsible for both the stream and house audio

Technical Director

The Technical Director role is responsible for operating many different pieces of video production gear

Titles / Keyers

The titles role is responsible for the onscreen match timers, and display titles across the event.

Mobile Camera

These operators provide mobile video feeds during the event

Announcer

The on air talent for the event.
Event Staff
The event staff are responsible for the safe and efficient flow of each NHRL event. They are in charge and responsible for keeping things moving.
Staff Manager

The staff manager is responsible for the event staff team. They also serve as the liaison between event staff and production

Front of house

This role manages competitor and spectator check in and check out.

Merchandise

This role handles the merch and food sales.

Spectator Safety

This role stands near the spectator entrances and exits and helps spectators find seats and bathrooms. They also keep the spectators from getting too close to the cages or any other robots. They reserve the right to kick spectators out for unsafe behavior

Green Room Manager

This role is in charge of everyone and everything going on in the green room

Green Room Check In

This role is responsible for manning the green room desk

Cage Manager

This role is responsible for a specific cage. Helping competitors with load in, load out, and keeping the cage clean.

Competitor Safety Officer

This role is important as every robot must pass a safety check by a competitor safety officer before they can fight.

House Bot Operator

This role is the driver of any of the house robots. They must follow the rules of one unstick per fight and help / hurt both bots equally.

Cage Repair and Reset

Members of this team help reset the cages after each fight so we are ready for the next one.

Floating Staff

These are generally helpers that are "at large" free to walk the pits and help competitors get where they need to go.