Shreddit Bro
From NHRL
Shreddit Bro is a two-wheeled vertical beater bar 3lb robot from the New York City based team Shreddit.
Robot Facts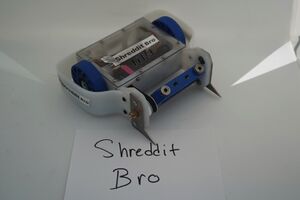 | | |
| --- | --- |
| Driver | Evan Arias |
| Team | Shreddit |
| Weight Class | 3lb |
| Body Material | UHMW frame and wheel guards, interchangeable top and bottom plates (Al, Ti, Polycarb), Ti forks and low wedge |
| Weapon | Vertical Beater Bar |
| Weapon Drive | Fingertech 2838 brushless inrunner |
| Drive | Botkits 22mm planetary DC gearmotors |
| Power | 4s LiPo |
Shreddit Bro has been competing in the northeast US area since summer 2019, with regular appearances at NHRL, as well as appearances at MassDestruction, SWORD and Motorama.
The established signature blue and white color scheme, and the aggressive and successful performance record have given Shreddit Bro the nickname of "The Blue Beater".
Shreddit Bro weapon is based on the popular Fingertech Robotics beater bar weapon kit, with a few modifications to the stock pulley assembly and the re-anodized blue color. The stock weapon ESC has also been replaced with a more powerful one.
Shreddit Bro drive is a successful marriage of the very popular Botkits 22mm planetary DC gearmotors and the Banebots compliant thermoplastic wheels. When combined with the 4s LiPo battery, this configuration gives the robot its impressive speed during "box rushes" and quick maneuvers during matches. In some configurations, Fingertech foam wheels are used instead for weight balancing.
Shreddit Bro frame is constructed using slot-and-tab 3/8" thick UHMW panels, which are then also secured to each-other with machine screws. The team found it best to run the machine screws directly into undersized holes, which compress the UHMW as threads are formed and results in very rigid connections. Currently the UHMW frames are cut out by the team using paper templates and a small tabletop bandsaw, with the drilling done on a small tabletop drill press.
The top and bottom panels are interchangeable and are selected prior to each match based on expected damage by the opponent - choices are 1.5mm aluminum, 1 and 2mm titanium, 3mm garolite and 1/8" polycarbonate.
The removable 1/8" UHMW wheel guards are heat bent on a fabricated form, resulting in repeatable and quick manufacturing of replacements.
Shreddit Bro typical configuration includes 2 titanium forks, one on each side of the beater bar. Aside from helping feed the opponent's lower edge into the weapon, the forks also cover the entire height of the sides to help protect the frame from horizontal spinner hits. An alternate configuration features a small low wedge which spans the forks and helps to feed opponent horizontal under-cutter attacks into the weapon.
Tournament Results
2021
| | |
| --- | --- |
| NHRL February | 6 Wins - 1 Loss |
| NHRL March | 2 Wins - 2 Losses |
2020
| | |
| --- | --- |
| NHRL January | 5 Wins - 2 Losses |
| NHRL July-1 | 8 Wins - 1 Loss |
| NHRL July-2 | 6 Wins - 1 Loss |
| NHRL September | 1 Wins - 2 Losses |
| NHRL November | 8 Wins - 2 Losses |
| NHRL 2020 Finals | 5 Wins - 2 Losses |
Combat History
Tied for Fifth Place - NHRL January 2020
First Place - NHRL July-1 2020
First Place - NHRL July-2 2020
Second Place - NHRL November 2020
Fourth Place - NHRL December Finals 2020
First Place - NHRL February 2021
Non NHRL
First Place - MassDestruction Nov. 19th 2019
Tenth Place - SWORD Fall 2019