NQD (Not Quite Done)
From NHRL
Not Quite Done (NQD) was a 3 lbs vertical spinner. It was the ideal opponent since it provided numerous vertical and horizontal edges to attack. May it rest in peace.
This page was created by copying "Shreking Ball". More updates coming.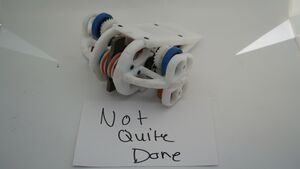 We wanted to create a "different" kind of vertical spinner. The initial concept was for a two wheel wedge bot with a spinner that would work if/when inverted. The initial design did not use a double set of wheels, however, the single set of wheels far in the back (had the wheels to far from the center of mass) and the bot had little traction for driving.
Robot Facts
The first appearance was at the Spetember 2020 NHRL event.
| | |
| --- | --- |
| Driver | Jim Kazmer |
| Weight Class | 3lb |
| Body Material | HDPE (CNC) + Nylon (3D printed) gears |
| Weapon | Vertical Spinner, 200 grams |
| Weapon Drive | 1 x FliteTest 2218 Brushless Motor, belt driven |
| Drive | 2 x FliteTest 2218 Brushless Motor, Nylon 3D printed gears |
| Power | 4S 650mah LiPo |
To be added to this page...
Add CAD images of initial and final design
Add CAD files for 3D printed gears
Add 3D STL files for gears
Tournament Results
2020
| | |
| --- | --- |
| NHRL January | Did Not Compete |
| NHRL July 1 | Did Not Compete |
| NHRL July 2 | Did Not Compete |
| NHRL September | 0 Wins - 2 Losses |
| NHRL November | 0 Wins - 2 Losses |