May 15th 2021
From NHRL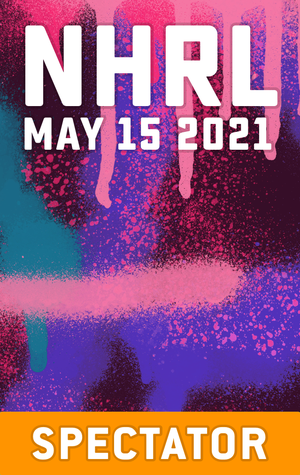 May 15th is the 3rd event in the NHRL 2021 season. We will be fighting all weight classes. Our hope is to allow spectators and concessions on site. We will be handing out a total of $4,200 dollars in cash prizes! Registration is free as always! We are hoping to be able to invite spectators. There will be a cost to spectate the event.
Sign Up
Signup are open. Click here to signup.

3lb signups are full. Signing up at as 3lb will put you on the waitlist
Waitlists will be updated every Friday at 4 p.m. EST

We are looking for staff / crew to help us make this the best event yet
Registration closes at 8 p.m. EST May 7th
Brackets will be posted May 8th!
We are also looking for unpaid staff volunteers to compliment our paid team. (Note this is a 7 a.m. to 10 p.m. event) If you are interested please reach our to @sasloe on discord.
Specifics
When: May 15th 2021. Arrive by 9:30 a.m.!

We would like the first fight to start at 10 a.m. EST

Classes:
Bracket
The Brackets for this event will be posted the evening of May 8th 2021.
3lb Bracket
12lb Bracket
12lb Sportsman
30lb Bracket
Social
Changes for the May Event
Visible match clocks in each cage for competitors
NHRL PrimeTime (Details coming soon)
Spectators in the stands!
Hopefully food trucks and concessions
Better match ordering
Lots of work to reduce competitor and staff stress
Merch! More details coming soon.
Dedicated space for competitors to sell merch!
Some pictures of our facility.
Videos
Spectating
Depending on the current state of re-opening, we expect to be able to offer spectators the chance to come watch the matches live. We will make a final call on spectators on May 8th. We plan to open our doors for spectators at 9:30 a.m. We plan to charge $10.00 for all day access for all spectators over the age of 2. Robot combat is dangerous and there will be weapons and dangerous things around. We will ask you sign a release prior to entering the space.
Food trucks in the parking lot.
On-site concessions
A collectible badge that allows for all-day re-entry
A staff-guided tour of the pits
Time to hang out with the competitors post-fight
Details
Upon Arrival
Check in with the event staff and get your badge and make sure they know you are here
Setup at your pit. All pits are first come first serve
Pass Safety. We will check your weapon lock and verify your radio failsafe.
Get your bot's picture taken. We cannot start the event without a picture for every bot.
Join the discord for day of event updates
Double check the rules.

If your bot does well towards the end of the day, you must be ready to fight after a minimum of 20 minutes
NHRL includes an audience-triggered Encore that can add 30 seconds to the fight. These usually only happen towards the back half of the day

If you have time, create or update the wiki page for your bot. You can view the pages in the 3lb Category.
Traveling to the event in the COVID era
CT has recently relaxed its travel restrictions. Currently, travel is allowed from all 50 states without quarantine.
The full travel guidelines are posted here. CT Travel Guidelines
COVID Precautions at the event
We will be taking social distancing precautions during this event.
You must wear a mask
Get vaccinated if you can find an appointment!
Get tested before and after you come, if you can
Follow the CT Travel Guidelines
Both socially distanced indoor pits and outdoor pit space will be available.