Norwalk Havoc Robot League
From NHRL
The Norwalk Havoc Robot League is a Robot Combat Fighting league based in Norwalk, CT. We welcome competitors of all ages an skill sets. Our goal is to produce fun and exciting events that will garner a large internet following. You can help us grow this following by checking us out on Youtube.
Upcoming Events
| Date | Weight Classes | Sign Up Link |
| --- | --- | --- |
| July 24th 2021 | 3lb, 12lb, 12lb (Sportsman), 30lb | Sign Up Here! |
| September 18th 2021 | 3lb, 12lb, 12lb (Sportsman), 30lb | Signups Open July 1st at 12:00EST |
| November 13th 2021 | 3lb, 12lb, 12lb (Sportsman), 30lb | Coming Soon |
| December 18th 2021 | 3lb, 12lb, 30lb | FINALS INVITE ONLY |
Past Events
Information about Norwalk Havoc Robot League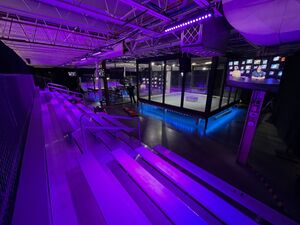 Robot Combat Events in Norwalk
First Timers Guide
Facilities Available to Bot Builders
Social Media
Youtube Channel - All fights / livestreams should be posted here
Discord - There is a large and growing community on our discord
Weight Classes and Rules
Robot Building Resources
Meet Some of the Competitors
All these bots qualified for the NHRL 2020 finals!
We also maintain historical stats for our bots, if you're interested!