September 18th 2021
From NHRL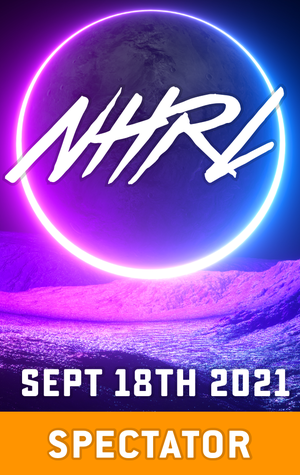 September 18th is the 5th event in the NHRL 2021 season. We will be fighting all weight classes. Spectators are allowed and welcome! All-day passes to watch the fights are $10.00 We will be handing out a total of 3 Golden Dumpsters and $4,200 in cash prizes and $1,000 in SendCutSend gift cards! Registration is free as always! We are expecting a large competitor field with over 100 robots present at the event!
The staff at NHRL are constantly monitoring all state and federal guidelines regarding COVID-19, and will update this page if any special precautions are required. See "COVID Regulations" below for more information.
Where: 165 Water Street Norwalk, CT 06854
When: September 18th 2021
Doors Open for Competitors at 8:00 am
Doors Open for Spectators at 10:00 am
Competitors: skip the stress, come a day early! Pits Open Sept 17th 2021, 12:00 pm to 10:00 pm. Safety Open Sept 17th 2021, 5:00 pm to 8:00 pm. You are welcome to leave stuff overnight, but do not leave anything plugged in.
Spectating
Spectators are allowed! We plan to open our doors for spectators at 10:00 a.m. We will charge $10.00 for all-day access for all spectators over the age of 4. Robot combat is dangerous and there will be weapons and dangerous things around. We may ask you sign a release prior to entering the space.
Food trucks in the parking lot.
Onsite concessions.
A collectible badge that allows for all-day re-entry.
A staff-guided tour of the pits.
Time to hang out with the competitors post-fight.
Want to Help Us?
We are currently looking for more crew!
Videos
Competitors
Registration Information:
Registration closes at 8 p.m. EST Sept 10.
To Drop Out: Email robot@nhrl.io
Event Format
September will be a 1 day event format, like normal. So be prepared for a long day!
Social
Upon Arrival
Check in with the event staff and get your badge and make sure they know you are here
Setup at your pit. All pits are first come, first serve
Pass Safety. We will check your weapon lock and verify your radio failsafe.
Get your bot's picture taken. We cannot start the event without a picture for every bot.
Join the discord for day of event updates
Double check the rules.

If your bot does well towards the end of the day, you must be ready to fight after a minimum of 20 minutes
NHRL includes an audience-triggered Encore that can add 30 seconds to the fight. These usually only happen towards the back half of the day

If you have time, create or update the wiki page for your bot. You can view the pages in the 3lb Category.
COVID Regulations
We will be following the latest guidance from the state of CT. Currently there are no capacity or distancing restrictions for an event like this. CT currently has one of the highest vaccination rates and lowest COVID rates in the country.
As of August 13, masks are required at all times when inside regardless of vaccination status, per the City of Norwalk.
If possible, get vaccinated. It's just a good idea in general.